6/6/2010
(click any image to enlarge)
Attendance
Zippy MacPhee
Air Mapster 8
---
Ride Stats
| | | |
| --- | --- | --- |
| Elevation gain: | | 3909 ft |
| Distance: | | 25.24 mi |
| Average grade: | | 6.3% |
---
BIKE GOD Theatre
The theatre is closed this week in observance of new records.
After taking a week off out of spite, the BIKE GODS are back on their wheels for another ride. Few words are exhanged as they make their way up to the giant golf ball in the sky. Air Mapster is still bitter about the
medal fiasco
from last time; but more than that, he's deeply hurt that Zippy MacPhee refused to attend his big birthday bash. Meanwhile, Z-Mac sticks to his guns, arguing that Mapster was a poor sport at the race medal ceremony and therefore deserved to be alone last weekend.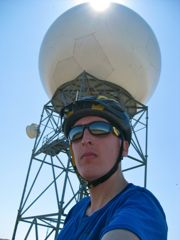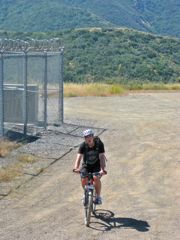 As they approach the giant golf ball, Air Mapster softens a bit when he notices that Zippy is wearing this anti-Lakers shirt. Anyone who hates the Lakers can't be all bad. Mapster also takes one of his customary self-portraits to prove he came up here.
The BIKE GODS stop on the way down to find hidden treasure. This time the treasure is found in this old war-time box of
"decon"
packets. The mood is further lightened by the discovery of this tiny basketball, so appropriate during these trying times in the fight against Lakers.
As a final gesture of goodwill to put any more silly bickering behind them, Air Mapster decides to significantly extend the ride. Rather than heading back down after an impressive ride up to the golf ball, he takes another trail into uncharted territory. His 6
th
mapping sense tells him that this will lead the BIKE GODS to another familiar, yet still far away system of trails — Chino Hills. Doing both Skyline and Chino Hills in one ride is absolutely unthinkable, but Mapster believes they can pull it off.
Just as anticipated, Z-Mac eagerly follows because no BIKE GOD can resist the allure of a bold new challenge. It's what they live for, and what makes them happiest of all.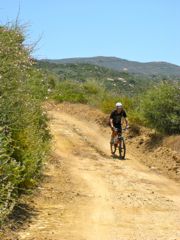 Finally enjoying doing what he does best, Zippy MacPhee zips down the mountain at lightning speed. The BIKE GODS are now heading down to the valley floor below, attempting to cross over from the Skyline region to Chino Hills. It's never been done before!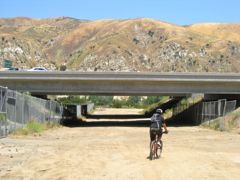 Here, they prepare to cross under the freeway as cars go zooming by above, unaware of the history that's about to be made.
About to enter Chino Hills state park from the south, the BIKE GODS make their way through a few minor barriers — nothing that their astonishing lockpicking skills can't handle.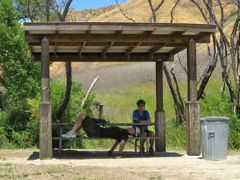 Having ridden over 20 miles and through two entirely distinct regions, it's now time for a quick break in Chino Hills. The BIKE GODS are loving every minute of this brutal test of endurance. They've long since forgotten the petty squabbles of their last outing and the uncomfortable silence that started the day.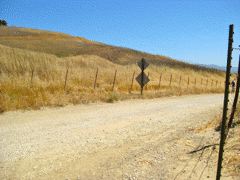 Here, you can get just a small sense of how fast he was riding. Note that this footage is presented at a speed that is many times slower than realtime.