5/23/2010
(click any image to enlarge)
Attendance
Air Mapster
Mrs. Mapster
Zippy MacPhee
---
BIKE GOD Theatre
The theatre is closed this week because I said so.
Race Stats

Air Mapster
Race:
5K
Overall:
24 out of 325
Men:
24 out of 152
M 30-34:
2 out of 11
Finish:
22:21.5 Pace: 7:13
Tag Time:
22:22.9
Gun Time:
22:21.5

Zippy MacPhee
Race:
5K
Overall:
35 out of 325
Men:
31 out of 152
M 35-39:
1 out of 11
Finish:
23:35.4 Pace: 7:37
Tag Time:
23:35.4
Gun Time:
23:36.9

Mrs. Mapster
Race:
5K
Overall:
254 out of 325
Women:
118 out of 173
W 30-34:
17 out of 22
Finish:
42:47.4 Pace: 13:48
Tag Time:
42:47.4
Gun Time:
43:26.0

Official Results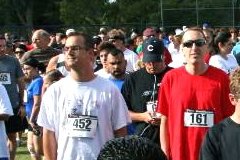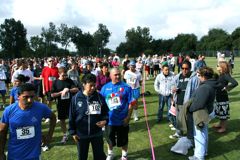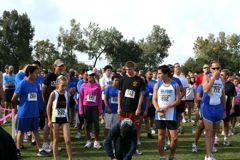 Zippy MacPhee and Air Mapster line up for yet another run - their third road race this year, and fourth running race overall. Today it's the Claremont Red Cross
Run For The Red,
a race that holds special significance because the 5K course winds through part of their bike college alma mater,
Heavy Mudd College
.
Since running is not a natural strength of the BIKE GODS, they have been working very hard to improve their abilities in the sport. Surveying the crowd, Air Mapster makes a bold prediction: that both will earn medals. This, in spite of the fact that only the top 3 in each age group will get one today. Will his prognostication come true?
Meanwhile, Mrs. Mapster hangs out in the back of the crowd, preparing to run her first race ever. Her plan is to lull her competitors into a false sense of security, then attack and overtake them by the end of the race.
A short time later, Mrs. Mapster finishes her first ever competitive race. She's done extremely well, easily surpassing the goal she set for herself. Excellent job!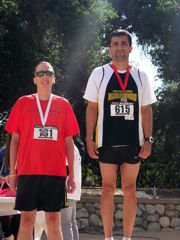 There, that's a better photo. And hey, there's no shame in getting 2
nd
place to a guy wearing a real running uniform. He looks like he's serious about it!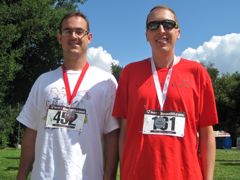 Hostility over the medals may not be apparent in this photo, but it's there, percolating just beneath the surface. Air Mapster believes
he
deserves the first place medal, pushing Zippy MacPhee to second place; after all, he ran the faster race. But Z-Mac is more than happy with the outcome; in retaliation for what he believes is Mapster's poor sportsmanship, Zippy spontaneously declares that he will be out of town next week, thereby missing Mapster's big birthday bash. Upon hearing this, Air Mapster storms away, seething with anger.
Will the BIKE GODS reconcile their differences? Tune in next time to find out!