5/16/2010
(click any image to enlarge)
Attendance
Zippy MacPhee
Air Mapster 4
---
Ride Stats
| | | |
| --- | --- | --- |
| Elevation gain: | | 3126 ft |
| Distance: | | 14.49 mi |
| Average grade: | | 8.4% |
---
BIKE GOD Theatre
The theatre is closed this week due to heavy fog.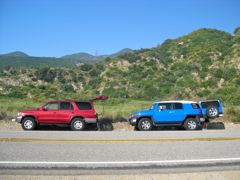 The BIKE GODS decide to tackle a new challenge for the second week in a row. Today they start at Lytle Creek, with hopes of joining the mile high club.

It's a beautiful morning up here on the trail, but the vast cityscape below is still shrouded in a thick blanket of fog. Zippy MacPhee stops to take in this panoramic study in weather contrast, while Zippy MacPhee continues to push his way up the steep incline.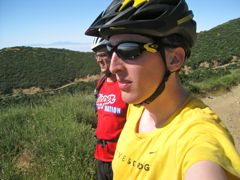 Air Mapster joins one of the Zippys and marvels at the spectacular view.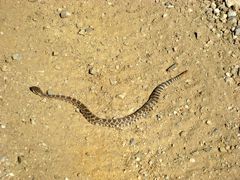 Sensing the BIKE GODS thundering up the trail, this baby rattlesnake quickly slithers away, looking for its mommy. There sure are a lot of babies (snakes, heads, etc) on this trail today!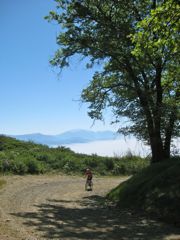 Zippy MacPhee rounds this corner, already marking 2,000 feet of absolute elevation gain, as the dense fog continues to linger far below.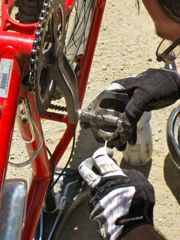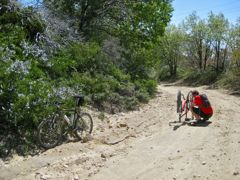 After over 3,000 of absolute elevation gain, the BIKE GODS reach a mile above sea level. To make the ascent even more challenging, Zippy MacPhee has deliberately adjusted his bike to make it more difficult to pedal. Now that they have reached their goal, he decides it's time to be nice to the bike and correct the bad adjustment.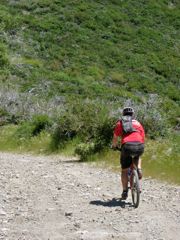 As always, Zippy MacPhee lives up to his name, zipping over these incredible loose and treacherous rocks at lightning speed. At times, he is going so fast that you'd almost think he fell down!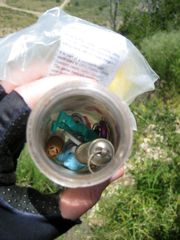 On the way down, the BIKE GODS stop and find some more hidden treasure in this Mrs. Dash Cache.