4/25/2010
(click any image to enlarge)
Attendance
Zippy MacPhee
Byondo
Air Mapster 20
---
Ride Stats
| | | |
| --- | --- | --- |
| Elevation gain: | | 2028 ft |
| Distance: | | 9.43 mi |
| Average grade: | | 9.9% |
---
BIKE GOD Theatre
The theatre is closed this week for repairs.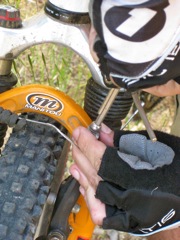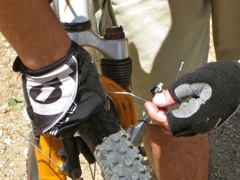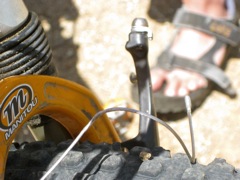 Suddenly on the way down, Byondo hits the brakes and stops to make a rash decision. He's still sore about Zippy's slick new shoes, and in his brooding anger he becomes a bit reckless. Byondo decides to carefully dismantle his front brake, making the descent from Potato Mountain much more treacherous than it already is.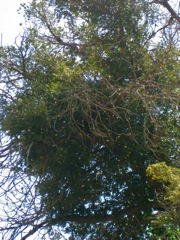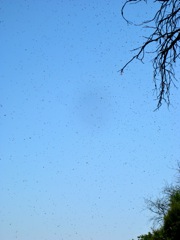 To add to the peril, he chooses to make this modification directly under this swarm of killer bees! Either he's not thinking clearly at all, or he's a genius beyond all conventional understanding. Adrenaline courses through his thick veins and he cracks a wry smile as the risk factor steadily increases. He begins to feel alive!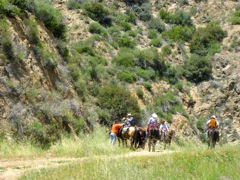 These horsemen stop and try to help, not understanding Byondo's true motive in disabling his brake.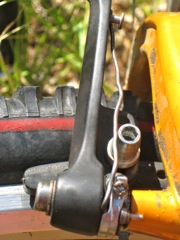 The horsemen cheerfully and insistently offer this piece of construction wire to help replace the spring that Byondo has already strategically "lost" in the brush. Not wanting to offend their gesture of goodwill, the BIKE GODS accept and pretend to install it on the brake. Of course, this puny wire will never hold the brake in place, so Byondo can rest assured that his ride down the mountain will be much like that of a rodeo cowboy on a bucking bronco. He eagerly anticipates the rush of flying down the mountain at preposterous speeds!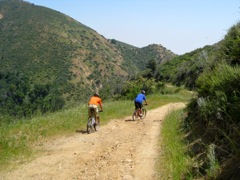 The BIKE GODS can resume their descent now that the danger has been turned up to eleven
and a half
. In a flash, they're gone.