11/29/2009
(click any image to enlarge)
Attendance
---
Ride Stats
| | | |
| --- | --- | --- |
| Elevation gain: | | 1277 ft |
| Distance: | | 11.32 mi |
| Average grade: | | 4.5% |
---
BIKE GOD Theatre
The Theatre is closed this week for maintenance and/or upgrades.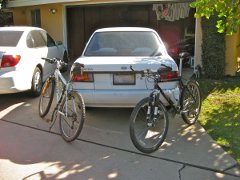 For the first time this year, the BIKE GODS will be riding a brand new trail. The bikes are obviously excited and ready to go!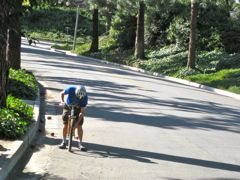 Byondo slows down to perform a critical repair on-the-fly. You can't tell from the still photo, but he's actually moving at around 30 mph here!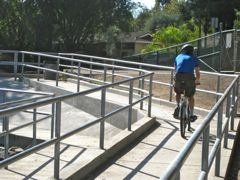 An early section of this new trail features an impenetrable maze - scores of lesser bikers have entered the labyrinth and never returned to tell their horrifying tales. As they make their way through, the BIKE GODS encounter the remains of many less fortunate bikers who became trapped here years ago. It's even said that a pack of feral bikers roams the maze, descended from a group who originally entered here many generations years ago. To this day, they still search for a way out.
But that's no problem for these BIKE GODS, utilizing Byondo's excellent direction sense to sniff out a clear path through.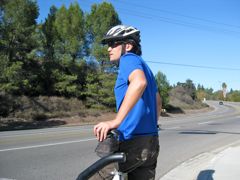 Byondo eyes a challenging section of trail known as a "street crossing." He carefully plots a strategy to get across this lethal segment of the path.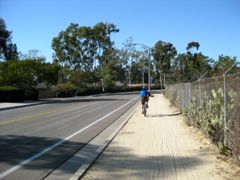 After successfully navigating that last hazard, the BIKE GODS are safely back on dirt, where they belong.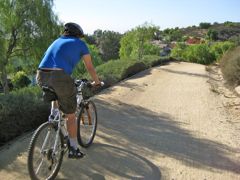 Don't be fooled by those so-called "houses" in the background of these photos - this is no tame outing in the 'burbs. While the structures you see were originally built as ordinary homes for people, they were never occupied because the nearby maze ensnared all potential buyers.
Now it is said that an evil presence has taken up residence somewhere in the abandoned neighborhood. Nobody has ever proven its existence, but legend tells of a terrible monster that can neither be seen nor heard; its brutal attacks leave behind the deep claw marks of a giant Grizzly - if you're lucky. Truly frightening!
Byondo braces himself and pedals onward, quite possibly into great danger.
With a look of great determination, Air Mapster follows Byondo and the Grizzly monster up to the top of this impossible climb. It takes all of his strength and will to catch up so quickly, but somehow he makes it look easy.
Air Mapster delivers one final knockout blow at the summit, defeating the invisible Grizzly monster once and for all. Truly, this is one of the greatest come-from-behind victories we have ever witnessed!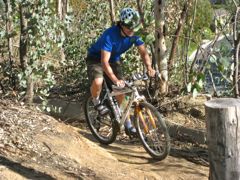 Byondo is all smiles after such an unexpected triumph. Things were not looking good for a while there!