It is an age-old question, pondered by the world's greatest philosophers since the beginning of time: Can BIKE GODS play basketball? Do they "got game?" We decided to put our honor and integrity as BIKE GODS on the line to answer this most pressing and persistent of puzzles. This decision was not undertaken lightly: thinking will change; paradigms will shift; nay, the very principles upon which we base our view of reality may come crumbling down as a result of this information. But we pressed on, determined to keep the world in the dark no longer, for with information comes freedom. Freedom for the people! That's what we say. And so we present to you our findings.

While the answer should be clear to those with the courage to make that fateful click, changing their lives forever, we BIKE GODS feel our work is not done. Stay tuned in the coming weeks for our stunning revelation. For we feel that enlightenment comes not only through seeking the right answers, but through asking the right questions. Prepare to be blown away.

This week's selection may be viewed in three different formats. All are the same footage; they simply differ in presentation.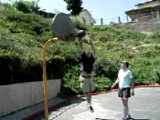 Basketball Jones
(14.4 MB)